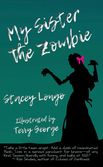 Available Now!
My Sister the Zombie is now available online.
Or meet me at the Welles-Turner Memorial Library on March 24 from 11–1 to celebrate the book's release at the READ Local Authors' Fair, and pick up a signed copy!
I was on the Wayne Norman Show March 19 to talk about the book.
Listen HERE
!
---
Latest News

Max Bowen of Citywide Blackout interviewed me at SuperMegaFest last month! Listen HERE (I'm in the last ten minutes).
​
Check out this article in Connecticut Coastal magazine, featuring some very familiar names!

Jeanette over at HorrorMade.com just posted this wonderful review of Ordinary Boy!

And check out her review of Secret Things!
​

Looking for more Stacey? I also make regular appearances here:

My monthly column

The Writer's Block

appears exclusively on Sci-Fi Saturday Night!

Here's the link.

Did you know that I review B horror movies for Cinema Knife Fight in a column called

Trashterpiece Theater

?

Check it out by clicking on these words

! (To have me review your movie, contact me

here.

)

I'm part of a writers' collaborative called

The Storyside

. You'll see blog posts from me pop up on there from time to time, so check regularly!

​