Growing Up Stacey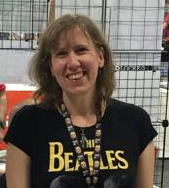 Born in Connecticut in the 70s, I grew up with two parents that had the audacity to be loving and supportive role models (don't worry, I was able to successfully create my own angst despite their best efforts). My sister and I found ourselves growing up among the fluorescent nightmare that was the 80s, awash in legwarmers and off-the-shoulder "Flashdance" tees. It was our love for Duran Duran that got us through these tumultuous fashion times.
After college (WE ARE--PENN STATE!) I moved to Block Island, RI, where I eventually began my writing career as a weekly humor columnist for the
Block Island Times
. For six years, I waxed poetic on such topics as how to disguise dust bunnies as wall-to-wall carpeting and how difficult it is to tell the difference between wild grass and corn when weeding the garden. During this time, I also published articles in the
Island Crier
and
The
Works
Magazine.
In 2005, I returned to my home state of Connecticut amid little fanfare, something I haven't quite gotten over (where's my ticker-tape parade, people?). I work as a copy editor to support my writing habit, and live an anxiety-ridden, caffeine-injected life with my husband Jason and two cats, Wednesday and Pugsley.
---