(Stacey's Note: While I often gripe about having too much on my plate, this week, I actually did. So I asked fellow writer and good friend John Valeri of Hartford Books Examiner fame to help out. Besides having a delightful sense of humor, John also has the endearing quality of not being able to say "No" when you beg him for a blog post. I hope you enjoy John's reflections on the women in his life as much as I did.)
Women I Love (Besides My Wife) by John Valeri
"Your poor wife! She must be a saint ..."
Those words have become a familiar refrain in my life, and while most people tend to trail off at that point in some semblance of politeness, the "to put up with you" is clearly implied. Allow me to set the record straight: my wife is many things, but a saint is not one of them. Fortunately, she
is
good-humored. Quite beautiful, also. And impressively tolerant.
I, too, am many things. Obsessive. Compulsive. Fanatical.
I'd like to think that these traits make me the ideal life partner. After all, obsession and fanaticism are pretty much synonymous with loyalty. And who doesn't want a loyal husband, right?
Of course, when you consider that this loyalty also applies to the women that came before my wife, you understand the potential for conflict. Fortunately, all of these prior relationships have been of a platonic nature.
And while some people might question this seemingly endless parade of lady friends, I firmly believe that I have the capacity to love them all …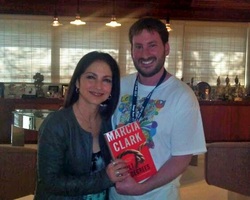 Gloria Estefan

I can't tell you how many people have asked if, or assumed that, Gloria Estefan is my wife. That's not to say they always recognize her as "the Conga Queen," but the picture of us that adorns my desk at work—and the second one that serves as my computer's backdrop—apparently creates the false impression that we're a bit more intimately acquainted than is actually the case. Go figure. Having said that, I do maintain that Gloria is (and was, and always will be) the first lady of my life. Long before Chelsey became the music of my heart—hey! See what I did there?—Gloria turned my beat around, providing the soundtrack to my youth. Chelsey has made her peace with this, and we've since followed Gloria across the globe together (all the way to Canada!), incurred bucket-loads of debt, and done all kinds of shameless things in pursuit of the true G-spot.

Oh, and in my defense: my wife's picture also holds a place of honor on my desk—it's just a tad less prominently placed than Gloria's ...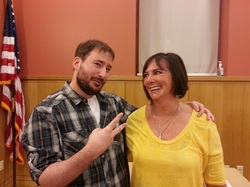 Marcia Clark

Yes, that Marcia Clark. She may have come out on the losing side of the "Trial of the Century" but she won in the court of public opinion—and in the recesses of my teenaged heart. I've been told I have a thing for older women who possess, ahem, strong opinions and colorful vocabularies. Perhaps this little infatuation is the proof? Anyway … seventeen years after my twelve-year-old self took up the Marcia mantle I met her while she was traveling on a book tour. (Did you know she's a brilliantly accomplished crime novelist now? No? For shame!) I knew we were destined for BFF'dom from the very moment that I asked her not to take out a restraining order on me and she replied: "Everybody knows those only make you try harder." And then she laughed—she does that often, and infectiously—and we've been compadres ever since. Bonus points: the rhythm dun got her, as Marcia is a fellow Glo-head.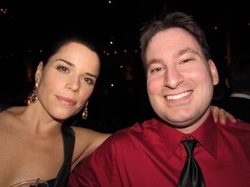 Neve Campbell

What can I say? As a neurotic and perpetually anxious child, I avoided horror movies like the proverbial plague. And then one night I made the fateful decision to watch Scream alone in the dark. The only thing that tempered my absolute terror was the hot, frightened girl-next-door who had the moxy to drop a TV on her would-be killer's head. Snap! Nobody does the strong-yet-vulnerable thing better than Neve Campbell, and I'm a sucker for a woman in need of saving. (That's no reflection on you, Chelsey—I swear!) Which is probably why, when writing my own obituary for a high school Journalism class, I fancied myself transitioning to the great beyond during a moment of coital bliss in Ms. Campbell's trailer. And yes, she was screaming—but the good kind. For that reason alone, I forgave her when she dropped out of the TV pilot based on Marcia's books.

Are there more women? Of course there are! But I don't want to brag. Besides, I've got packing to do. Gloria's expecting me in Chicago. Don't get the wrong idea, though—I invited my wife to join us …
(Stacey here again. If you enjoyed John's post, please take a moment to go visit his Hartford Books Examiner page at http://www.examiner.com/books-in-hartford/john-valeri. Because John is not only awesome, but he really saved my neck this week. Thank you!)