Life lessons can be brutal, but they shape who we are today. For example, I would not be the woman I am today had my sister and I not met Duran Duran in 2007. What's the life lesson? There is none—I just like to remind people at random times that my sister and I have, in fact, met Duran Duran.


Here are some of the important lessons I've learned over the years: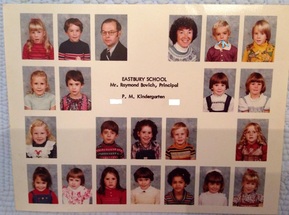 In kindergarten, I learned that it's never a good idea to make friends with the kid who eats the crayons. This was something I learned the hard way. Every day, I'd have my posse of pals that I'd kibitz with at nap time, and it quickly became evident that one of them had an appetite for cornflower blue. This was incredibly frustrating when I wanted to create my art and had nothing with which to color in the sky. I'm not saying you shouldn't be friends with someone just because they're different. I'm saying you can't let people take advantage of you.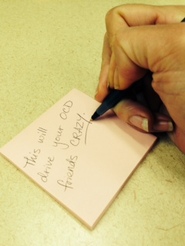 During my elementary school years, I learned that I do not hold my pencil the same way everyone else does. Did it bother me? Nah. Even though I was often mocked for holding my pencil wrong, it just felt more comfortable doing it my way. And that was okay. It's not always a bad thing to be the weird kid. Just don't eat other people's crayons.

Sixth through eighth grades brought about new life lessons learned the hard way. The predominant theme through these years was that puberty is just awful. Also, I experienced my first loss when my Grandma Mitzi passed away when I was 11. My woes, like my boobs, were blossoming. That's when I found out that acne is not the worst thing that can happen to you. (Having acne and chin hairs is much, much worse. But still not as bad as losing someone you love.)

High school brought new milestones, like learning over (and over) that the guy you like won't always like you, and that's okay. Maybe he's not as bright as you are. Maybe he treats women like garbage. Maybe he's gay, and is meant to be your BFF, not your boyfriend. The universe does not have to give you everything you want, and won't. Get over it and move on. Because guess what? There's someone out there with an unrequited crush on you, too. You'll hurt people without meaning to. It's okay. Forgive yourself.

College was where I really learned that I had talent. No, I'm not talking about my award-winning performance in the 1993 Alpha Chi Beer Pong and Fish Filleting Tournament, though that was pretty memorable. I'm talking about my writing career. I won a few awards, got some praise from my professors, and started learning how to hone my craft. The perfect pencil-holders of the world could kiss my essay. I was good at this writing thing.

But not great. I discovered that perfecting your craft is a lifelong learning process. I left college with a degree and the realization that I had no idea what I was doing, but if I wanted to write professionally, I should get better at it.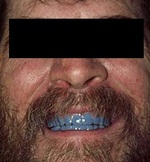 So I started writing more. Hard lesson #2871: rejection happens to everyone. It certainly doesn't feel good, but if you get one of those rare gems that will offer critique and encouragement with their rejection, it's a wonderful thing. You try again, and eventually, someone will pay you for your writing. And that, my friends, feels awesome.

I also found out that life can be pretty okay, even for those of us who hold our pencils the wrong way. I've learned that and that you shouldn't believe everything you read on Facebook, because nobody is really honest about their worst days online. Heck, just look at this guy's profile picture. I went to kindergarten with him. Nobody's teeth are naturally that pretty a shade of blue. People lie about how great their lives are all the time. Regardless, their success is NOT your failure.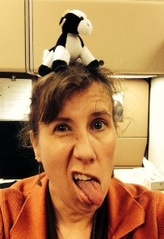 Here's my point: you're never going to stop learning some ugly truths about life. But you can't waste time worrying about it. Everybody has regrets—for instance, I've posed for some weird pictures with stuffed cows that I'm not particularly proud of—but you're not going to please everyone. As long as you can look your family and yourself in the eye, then heck, you're doing just fine.