In honor of my sister's St. Patrick's Day birthday, I thought I'd tell you all a little more about her (and us).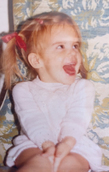 This is my sister before I was born. She lived a carefree life of catching frogs in the pond, digging in the dirt for worms, and generally being an adorable toddler.
See how happy she is?

​
Then I came along and promptly tried to eat her face.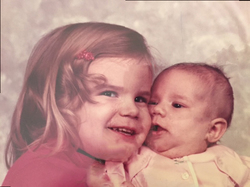 Kim took the responsibilities that came with being the big sister very seriously. She hugged me when I cried, tried to comfort me when I woke up in the night and cried, and patiently tried to give me a bottle when I was hungry and cried. There were times that the only thing that would comfort me was trying to take a bite out of my sister's cheek.
Luckily for my parents, they had one sweet-tempered child.
​
That child was not me.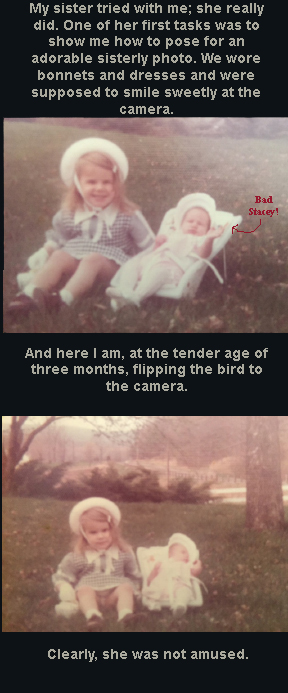 It became evident early on that my sister was the sensible one. The one who knew not to pick up snapping turtles or lick jellyfish when they washed up on the beach. (What? They looked like candy.) If she wanted a toy, she did more chores to earn money, and she saved up for that toy. On the other hand, I was more of a fly-by-the-seat-of-my-pants kind of kid who would wait until my generous sister let me play with her new toy (as she inevitably did), and then dared to ask: would Ballerina Barbie's hair grow back if you cut it? (Answer: no.) Honestly, Kim put up with a lot.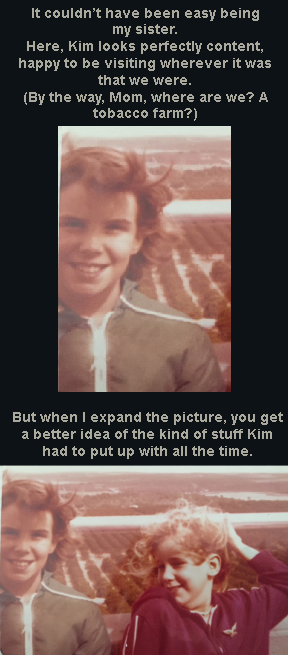 But here's the thing about my big sister: despite the fact that we might seem, on the surface, very different, we're a lot alike. We both hoard purses and shoes and shampoo and all things Duran Duran. We both watch Survivor religiously and then talk the next day about who got voted off. One time, after we went shopping at Whole Foods and were feeling all self-righteous about our purchases, I accidentally ran over a large frog. Splattered him all over the front wheel. Instead of making me feel guilty about it, Kim laughed until tears rolled down her face.
She also knows that when I get in my darkest, bleakest moods, the best cure is to go see Duran Duran in concert again. (She and I will be seeing our boys again in April . . . for the seventh time.) She doesn't judge me, or make me feel bad when I forget to mail her and her husband's anniversary card on time and have to run it over to her house and tuck it in the mailbox a day late. (Bonus: she also had the common sense to marry a wonderful guy, and he never makes me feel bad, either.) And nobody can make me laugh like my sister.
I'm happy to report that I've outgrown my tendency to try and gum her cheek. I do still try to pick her nose once in a while, though (third picture in the strip).

​Happy birthday, Kim. Thanks for being the best big sister in the world.
​