I recently made my television debut on local access cable up in New Hampshire. (
Here's the link
, in case you somehow missed me spamming it across every social media outlet I could think of.) Now that I'm a television star, I'd like to share some important things I learned from my small-screen debut.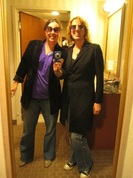 1. What you wear is important. I drove up to New Hampshire with fellow author Kristi Petersen Schoonover, who advised me during the drive that I shouldn't wear green, orange, patterns, or too much makeup. I shouldn't wear jewelry that was too sparkly, and now was NOT the time to try a new fashion trend. There were sound reasons for this: green would blend in with the green screen, making me look like a floating head with no torso; orange is apparently a bad color on me; patterns make people look fat on TV; makeup melts. Sparkly jewelry is distracting and can cause weird flashy things to happen, and a new fashion trend that I'd never tried would make me uncomfortable.

I wore black.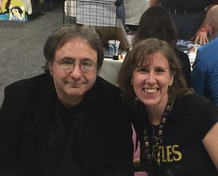 2. Do it with someone you know. Kristi was also appearing on the show, so it helped that she and I could practice reading our pieces beforehand. Plus, I was interviewing with Tony Tremblay, who I've known and adored for several years now. All I had to do was focus on having a conversation with my friend Tony, and not on the millions (okay, maybe hundreds . . . or just "hundred") of viewers in the audience who would be focusing on my weird sparkly jewelry.

Tony greeted me with a big hug. I thought Gee, Tony's a big local access cable media star now, and got all nervous again.


3. Studios are HOT. Seriously, those lights are killer. I know we've all heard that, but it's not until you're actually sitting under them that you start to think Can the human body bake like a potato? How long would that take? The sweating starts instantaneously. Now I knew exactly what Kristi meant about makeup melting. I was worried about my actual face melting.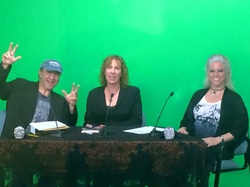 4. You'll be pleasantly surprised that you were worried about nothing. My face didn't actually melt, but that's not what I mean. Here's the thing: I hear my voice all the time. In my head, it's loud, nasally, and a bit grating. I'm also tone deaf, and well aware that I can't carry a tune, as is anyone who has ever had their car windows open next to me at a stoplight. I hate the way I sound.

Except that when I watched the interview, I sounded fine. My voice was light and sweet and alternated between sounding like my mother and my sister. That was perfectly okay by me. Also, I slouch a lot, but on the screen, I didn't look like a stooped hag. I looked relaxed.

Nobody asked me to belt out show tunes, so that was a relief, too.

5. But you'll be alarmed by how many things you should've worried about, but didn't. I don't worry about my smile much. I should have. Why has nobody ever mentioned my gigantic horse-faced overbite? When the heck did that happen? Has my mouth always been that big? And why did I keep making weird faces? Do I do that all the time? In public?

The turkey neck I was already aware of, but it did serve as a reminder that I need to moisturize my skin more.

All in all, it was a fun experience. The hosts were wonderful and funny and if I haven't mentioned it yet, Tony is one of my favorite people in the whole world. I'd definitely do it again.
After I make an appointment with an orthodontist.