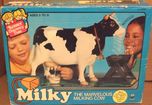 Celebrating birthdays in today's world is not like it used to be. As a kid, all you had to worry about was whether or not your grandmother would remember that you really, really wanted Milky the Milking Cow for your big day. This involved an elaborate plan of mentioning it every weekend when you saw her. Would Grandma deliver? (If she was my grandmother, you bet your bonnet she would.)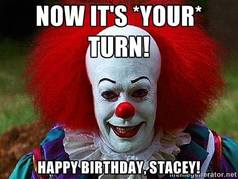 These days, there's less cake and toy cows and more obligations. I am talking, of course, about the Facebook Birthday Phenomenon.

If it happens to be your birthday, and you happen to be on Facebook, you may want to take the day off. You'll be spending your day thanking everyone who wishes you a happy birthday. How will they know? Because Facebook sends a notification to all 634 people on your friends list on your big day. And many of them, in turn, will write on your timeline.

My birthday was this week. When I woke up at 6:15, ten people had written on my timeline to wish me a happy day. I individually thanked each of them.

By the time I got to work, sixty-eight people had posted on my wall. Some of them were pretty funny. (For example, I will often post a picture of Tim Curry as Pennywise the Clown, holding balloons, on my friends' walls for their birthdays. My pal Barry posted this in return.)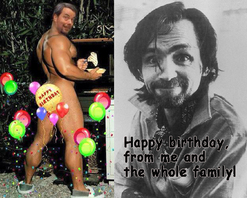 I thanked twenty more people, but honestly, I had a job to do. I switched to "liking" most of the posts, and commenting on the photos.

By 11 AM, I was overwhelmed. I had Manson family birthday wishes and a Ron Dickie balloon buttocks birthday photo (and trust me, if I hadn't gotten it, I would've been upset). There were silly posts and sentimental posts and one half-hearted "HBD" post.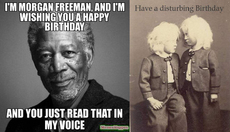 There were celebrity posts and disturbing posts and a Dali cake. I gave up trying to comment on the photos, and just resorted to the "like" button for everyone. I couldn't help it. My boss was expecting me to actually do my job.

By the end of the day, I was exhausted. I still had 126 "likes" I owed people, and major guilt that I hadn't gotten to them yet. I missed the days when the only thing I had to worry about was my penmanship on the "Thank you for Milky the Cow" note I sent my grandmother. I came home, rushed through dinner, and got back online. It took me an hour to catch up with all of the well-wishers.

Then, right as I was going to bed, my thumbs numb from all the liking, this came in: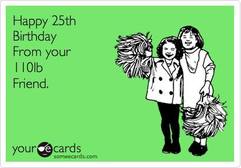 I was back online in an instant. That, my friends, is a "steal-worthy" photo. And a nice reminder that I have a lot of fabulous Facebook friends. So thank you all for the birthday wishes. I loved every single post.