I had every intention of writing about my weekend with Richard Grieco (which wasn't nearly as lascivious as it sounds, much to my dismay) but I'm wrapping up week three of non-stop events, and quite frankly, I'm pooped.

Luckily, my friend John Valeri was kind enough to interview me on his blog this week, so I'm going to excerpt part of it below.

Oh, okay, if you insist . . . one picture of me and Richard. Then read the interview.
​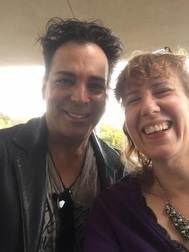 Isn't he dreamy? And so kind, and friendly, and creative . . .
Speaking of kind and creative men who would probably be mortified to be referred to as "dreamy," let's get back to that interview John Valeri did.
​The whole thing can be found here: https://johnbvaleri.wordpress.com/2016/10/25/seasonal-suspense-part-4-stacey-longo-on-tricks-and-treats-anthology-qa-w-event-details/, but here's an excerpt:
John Valeri:
What inspired your contributions to
Tricks and Treats
?
Stacey Longo:
"Time to Let Go" was an exercise I undertook trying to get over a friend's death. The good news: it *did* serve that purpose. The bad news: the initial draft of this story was pretty terrible.
I put it aside for a while—maybe six months—then revisited it again once I was more emotionally detached from the story. (Like I said, just writing it helped me process the initial death that inspired it.) I did a lot of heavy rewrites, and wound up really liking the now-unrecognizable version.
"Zombie Witch" was inspired by a Halloween decoration that I've had for years and have never quite felt comfortable hanging up. Add in one night when I was home alone, reading Joe Hill, and the damn thing started flashing and playing music all on its own, and a story was born!
JV:
To what do you credit your interest in dark fiction—and what purpose do such stories serve?
SL:
When my sister and I were seven and four respectively, we were accidentally allowed to watch a truly terrifying movie: I think it was
House of Wax
with Vincent Price. And by "allowed," I mean Mom and Dad fell asleep and we changed the channel to the good stuff while they snored. Needless to say, it scared the snot out of both of us. But there was also something
exciting
about being so terrified. Everything held secrets after that—we imagined there were vampires in our closets, man-eating trees outside our windows, killer dogs living next door (that last one might've been true). So I associate horror with a twisted sense of both fear and excitement. And a super sisterly bonding moment. Why
wouldn't
I want to write it?
I encourage you to visit John Valeri's website to read the whole interview, in which we discuss Halloween, Valentine's Day, and what's getting published next. Thank you to John for orchestrating the interview, and to God for making my teenage dream of meeting Richard Grieco come true.