I'm not one for holidays (except Halloween, of course). Easter is no exception. Here's what I associate with Easter: death. Also, weight gain due to excess peanut-butter egg consumption. However, I try to make the best of it. Luckily, I'm surrounded by some twisted people who make that a bit easier for me.

Take, for instance, my boss. Last year, he made this Easter decoration especially for me: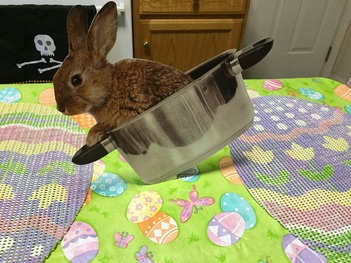 Why yes, that
is
a bunny in a boiling pot. I believe this puts to rest any argument you might try to make that your boss is better than mine. Because clearly, you are wrong.
In addition to my awesome boss, I also work with a woman who managed to escape a stifling, intolerant religious childhood by leaving Arkansas as soon as she was old enough to drive north. (She remarked once that one of the nicest things about living in New England was seeing people not afraid to be openly gay.) While she has worked hard to put her churchgoing nightmares behind her, I've found her to be a great resource when I'm trying to figure out a plot point in a story that I might need religious clarification on. We recently had this conversation:
Me:
I'm trying to work on an Easter story, and most of my knowledge about the holiday comes from
Jesus Christ Superstar
. Can you tell me which chapter and verse in the Bible it is where Herod asks Jesus to walk across his swimming pool?
Jackie:
You do realize Andrew Lloyd Webber took some liberties with the gospels when he wrote that play, right?
Me:
What? How dare you speak such sacrilege!
Luckily, Jackie is used to me, and saw this as an opportunity to have a teaching moment.
Jackie
: I would think you'd
like
the story of Christ's last days and the apostles. It's really more of a horror story.
Me:
Well, sure, Judas betraying Christ with a kiss was pretty terrible. And Christ telling everyone to eat his flesh was icky. But I'm not sure there's a horror story there.
Jackie:
You do know Peter was crucified upside-down, don't you?
Me:
Why no, I must have missed that in my kindergarten Sunday school class. Let's go get a bottle of Christ blood and a loaf of flesh, and we'll discuss.
You know, I think I've gotten this holiday all wrong. Easter might be even creepier than Halloween.
Happy Easter and Passover, everyone!
________________________________________
This week from
The Storyside
:
Missing St. Patrick's Day already? Rob Smales has a leprechaun treat for you in "Gotcha,"
Part 1
and
Part 2
!
"
Six Authors I Love
"—I'm pretty sure the title says it all in this piece by Stacey Longo (hey, that's me!)
"
A Conversation with Author Jay Atkinson
" is David Daniel's attempt to probe the mind of Atkinson, author of
Massacre on the Merrimack
and other works!