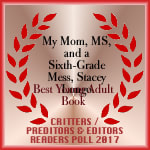 I've been struggling lately with the writing side of my life. This isn't unusual for
any
writer, though honestly, it often feels like you're the only one when you're going through it. And that you're the worst, most terrible writer in the world.
I started the week down in the dumps (two story rejections in five days didn't help). My novel
My Mom, MS, and a Sixth-Grade Mess
had been up for a
Preditors & Editors Readers' Choice Award
, and by the time I went to bed Sunday night, the book had dropped to third place in the standings. I knew I'd lost.
Imagine my surprise Thursday morning when my editing partner congratulated me and posted the announcement on my Facebook wall that I'd won! (And thank God for him, because I never would've thought to go back and check the final standings.)
I'll admit, it knocked a little bit of the Eeyore out of me.
Later that same day, a contract arrived in my inbox. Now that I've signed it, I'm assuming it's safe to announce my story "Of Giraffes and Men" will appear in
Limitless Publishing
's
Carnival of Fear
anthology in April 2018. It's the tale of two men, working as costumed characters in an amusement park. When the zipper gets stuck on one of the costumes, terror ensues . . .
It was a fun tale to write, and also the first time I've sold a story based on a proposal alone. And yeah, signing the contract felt nice.
There was another e-mail in my inbox, this one from the
publisher
of my upcoming YA novel. He let me know the proof was ready for
My Sister the Zombie,
and all systems are go for its release in March. I even got the go-ahead to reveal the cover, so here it is!
I will say this: when your inner monologue is urging you to quit writing and find a more suitable trade, like, say, person who doesn't get out of bed, sometimes if you wait a few days, the universe will perk you right up again.

​So thanks, universe. And my friends. And my e-mail server.

​I needed that.