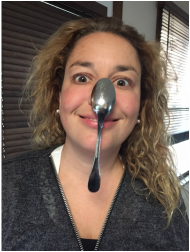 Thanksgiving has always been my mother's holiday. She's been hosting it for as long as I can remember, and has claimed for years that it's her favorite holiday. Maybe it is. Let's look back at some of my fondest Thanksgiving memories and try to figure out why, because frankly, I'm stumped.

Thanksgiving 1981: My mother was particularly pleased that year to have found adorable candles in the shape of pilgrims to use as festive centerpieces. My cousins Paul, Sal, and Lori, my sister Kim and I were all kicking each other under the kids' table, bored out of our minds, until Sal had a brainstorm: his mother, my Aunt Stephanie, had brought pigs-in-a-blanket appetizers, complete with cocktail swords stabbed through them. There were tiny plastic weapons littered throughout the house. Sal was not one to miss such a prime opportunity.

Soon, the children's table was awash in manic giggling as Sal managed to stick a record thirty-nine plastic swords into one much-abused pilgrim candle. My mother was not amused.

Incidentally, this was the same year we discovered my cousin Lori had the brilliant talent of being able to hang a spoon from her nose. Where this magical ability came from, I don't know, but I can report that it is still impressive thirty-five years later.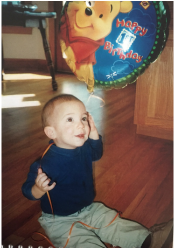 Thanksgiving 1998
: Fast-forward ten years. My sister was now married, and her in-laws were joining the Longos to break bread together for the holidays. The Kanes are lovely people. They surely found the farm, and our family, quaint and for the most part, not crazy (they did not know us well yet).
My mother was alarmed to catch movement out of the corner of her eye while preparing dinner. She thought she'd seen a mouse dart under the refrigerator, which, while mortifying, was not entirely unexpected that time of year on a farm. She discreetly called my father over and whispered the details of her dilemma to him. Could he eliminate the mouse before it became an embarrassing situation? Note: she forgot to say "as inconspicuously as possible." This will become important in the next paragraph.
Dad was, of course, the perfect man for the job. He grabbed a fork, squatted down, and with the reflexes of a ninja, managed to impale the mouse on the fork in one jab. I will not go into more squeaking, squirming detail than that; I will only say that it was both incredibly impressive and truly disgusting. One of my favorite Thanksgiving stories.
Thanksgiving 2003
: At this point my sister and brother-in-law had two children. Evan, who was conveniently born right around Thanksgiving, thus allowing us to combine his birthday party with the holiday every year, was turning one. He'd been napping most of the afternoon, and his Aunt Julie and I took it upon ourselves to wake him up for his party. This is because in 2003 neither of us had much experience with infants, and we were dumb.
Evan was
not pleased
. He screamed like a banshee, he cried, he
did not want to get up right now
, and why did we deprive him of
sleep
? Aunt Julie tried to make him laugh, and he wailed and turned purple with heartbreak over his lost nappy-time. She quickly abandoned ship and headed downstairs for pumpkin trifle. But I
recognized
this behavior. It was the same tear-filled tantrum
I
went through every morning when my alarm went off. I, too, have never understood why grown-ups think that anything, even cake, is more important than sleep. It was in that moment, while I was cooing to my angry, heartbroken nephew who'd had his blissful nap interrupted, that I realize something truly special: we were kindred spirits, my nephew and I. I sat down with Evan in my lap, watching fat, hot tears spill down his cheeks, his breath hitching as he wound up for another wail, and started to cry with him.
I
wanted a nap, too.
Mom says Thanksgiving is about family. I
guess
she's right.
Happy Thanksgiving, everyone!
____
Did you visit The Storyside this week? Here's what you might have missed:
Fabulous Free Fiction: "Good Guy Standing in the Rain" by David Daniel
Author memories: "Author Flubs: What Not to Do" with Vlad V., Rob Smales, David Daniel, and me