I thought it might be nice for you, my faithful readers, to see what a typical day is like for me. The glamour, the excitement . . . well, you can see for yourself. Here we go!

I woke up early and realized that the man I was cradling in my arms was not, in fact, my husband. That's right—I'd spent quality time with another man the night before. I left him in bed and promised to return as soon as I could. It was really hard to leave him, though.

And in case you're wondering, yes, I do decorate my bed pillows in vintage Holstein, and the sheets are an early Victorian skull pattern. I've long thought I missed my calling as an interior designer. (Nobody else seems to agree with me.)
I made it out of the house in record time and drove to work. When I got there, I had to face my first big decision of the day: take the escalator on the left, or the stairs on the right? On one hand, the escalator would be easier, and I'd have to exert little to no effort, except basic balancing. On the other hand, the stairs would get my blood pumping, give me an early-morning shot of energy, and burn a few calories to boot.
My choice was clear.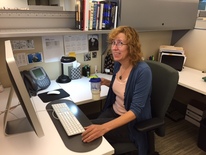 Worn out from the escalator ride (balancing upright on moving stairs is hard!), I found my way to my desk. My day starts pretty early and pretty quickly: I usually jump right in to work. Here I am at my cubicle, jumping right in to a cup of coffee.
For those of you wondering who did the stylish decorating job on my cubicle: yup, me again! I've selected a fun and frothy taupe and gray color scheme, and carefully chose the accompanying wall decor to inspire and delight throughout the day. That decor includes an old Bloom County comic strip, a picture of me and my BFF Richard Hatch, an old black-and-white snapshot of JFK and his brother Bobby, a picture of a young Truman Capote, and a casual shot of Marlon Brando, also enjoying a cup of coffee. How is this inspiring? Shut up. It's my cubicle—I'll decorate it any way I want.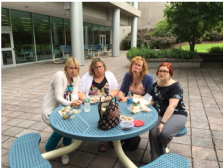 Once I have enough coffee in me, it's usually time for lunch. The girls I work with are pretty fabulous, and we often eat lunch together. Here we are, lamenting the fact that lunch is almost over.

Just kidding. I actually took this shot to send to a friend whose last day was Friday. I wanted her to know that we missed her. (We are also sad because the lunch special that day was tuna salad. But mostly we're sad because we miss Jenn.)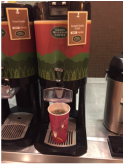 Now that Jenn is gone, I had to make a new best friend at work. Someone who would perk me up, brighten my day, and help me make it through the afternoon slump.


Here it is.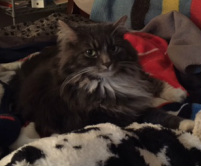 After a long, hard day at work, I headed home. I don't mind the afternoon commute at all, mostly because I know how happy my family is going to be when I walk through the front door. And by family, I mean my cats, Wednesday and Pugsley. Here's Pugsley, who didn't even bother to greet me at the door, even though it's my paycheck that's putting food in his cat dish. Rotten ingrate. I didn't appreciate the look he gave me when I took this picture, though admittedly I did snap it right after I threatened to turn him into a bathmat. (Why yes, Pugsley is relaxing on a vintage Holstein blanket! How kind of you to notice.)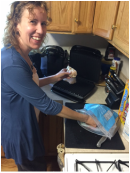 At least Jason was happy to see me—and he had a present waiting for me. Yes, he greeted me with a new George Foreman grill. We have one already, you see, but it's small. Too small to make enough food for leftovers. So actually, Jason bought this new grill so I could prepare extra food for him every night. What a doll, huh? Grr.

Here I am, trying not to resent "my" new gift that will make it easier for me to overfeed Jason. At least I'm smiling, which is more than I can say for Pugsley in the previous picture.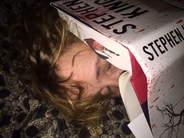 My workday doesn't end after I leave my day job and feed the wolves at home. Usually after dinner, I have a ton more work to do. This night I had to edit a novel, edit content for a website, critique this week's submissions for one of my writers' groups, and work on the very blog you are reading right now. I was ready to pack it in by about 9:20. This was good news—I had ten whole minutes to relax and read before it was time for bed! I'd been thinking about spending quality time with Stephen all day. I flossed, brushed my teeth, washed my face, and got ready to finally pay attention to the other man currently in my life.

Sadly, even his sweet words couldn't keep me awake.
I think you'll agree it had been a long day.