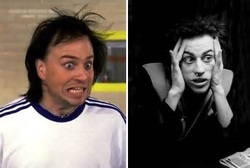 I know you think I'm a grinch, but there are a few things about the holidays that I can appreciate. For instance, there are some Christmas songs I enjoy. (Only some. Let's not be ridiculous.)
For instance, one of my favorite holiday ditties is "Do They Know It's Christmas?" by Band Aid. I'll never forget how excited I was as a tween when I heard that my favorite comedian, Bobcat Goldthwait, was working with some of the most popular vocalists of the day to raise money for . . . something.
It turns out that it was not Bobcat Goldthwait of Police Academy fame working with these musicians, but Bob Geldof of the Boomtown Rats. Imagine my surprise when I did not hear Goldthwait's trademark "AAAUUAAAAAA!" anywhere in the song. But what I did hear was Duran Duran's own Simon LeBon harmonizing on the record, so I still loved it.

My next entry on this list might surprise you: "The Little Drummer Boy/Peace on Earth." It's surprising because I hate both "The Little Drummer Boy"
and
Bing Crosby. But I am, at heart, a child of the eighties, and as such, one thing I really
do
like is some David Bowie. What makes this song even more enjoyable is that Bowie didn't want to do it. So he likes Bing about as much as I do.
Let me clarify. According to this article from the Huffington Post,
Bowie was supposed to sing "The Little Drummer Boy" in tandem with Bing. Bowie didn't want to, because when you're Ziggy Stardust, you don't give a rat's patootie about offending a legendary crooner like Bing Crosby. Atta boy.
So at the last minute,
the writers for Bing's holiday special wrote an accompanying piece ("Peace on Earth") and Bowie . . . agreed to sing it. The result? A bizarre duet that is so uncomfortable to watch, it'll put you right in the "I'd rather be anywhere else but
here
" mood that's so common around the holidays.
Next up is a song that isn't traditionally considered a holiday classic, but I think it should be. It always takes me back to a happy time. Picture it: late November, 1994. I was a young, naive college student, buying a frozen Stouffer's microwave dinner at the corner UniMart. It was there that the creepy sales clerk told me the news: Jeffrey Dahmer had been murdered in prison.

In short, a Christmas miracle. Stacey's small grinch heart grew three sizes that day.

To this day, nothing gets me in the holiday spirit quite like the Violent Femmes' holiday ditty, "Dahmer Is Dead." Go on, have a listen. You can't tell me that doesn't evoke some sort of emotional reaction in you.

Finally, I would be remiss if I didn't mention that old feel-good chestnut, "Teddy the Red-Nosed Senator." When I think about Christmas, I think "Sure, it's about the birth of the savior and all that, but how can I poke fun at Teddy Kennedy at the same time?" Because isn't that really what the holiday is about? Making fun of a dead Kennedy's addiction problems? Yes. Yes it is, in my book.

I hope this blog has convinced you that I'm not all about the "Bah, humbug!" this time of year. See? I can be sentimental. So this year as you celebrate Hanukkah, or Christmas, or Kwanzaa, or Festivus, don't forget to hum one of these cheerful melodies. Because nothing says "Happy Holidays" like singing about people dying in Africa or serial killers being murdered in prison.