Have you ever noticed that the Internet is chock-full of do-it-yourself tips, tricks, and handy advice? I don't know about you, but it seems like every day I'm seeing "Six Life Hacks You Can't Live Without!" or "You've Been Cutting Your Watermelon Wrong!" or even "Why Waste Money at a Salon? Try This at Home!"
Wait a minute. I
hate
wasting money. And I could use a trip to the salon. This sounded promising. So I decided to throw caution into the wind. I clicked on the link.
First up was
a list of suggestions
for highlighting your hair at home. Most of them involved sunlight, but I found one that required no sun and only one ingredient: hydrogen peroxide.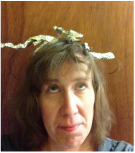 Now, I've highlighted my hair with hydrogen peroxide before. It was a go-to beauty trick that I remembered from the '80s. It didn't work then, but maybe hydrogen peroxide had new, improved ingredients. Color booster. Something.

I separated a few strands of hair and soaked them in peroxide. Then I wrapped them in aluminum foil, because I had a vague memory of my sister doing this back in high school. She'd worked as a receptionist for a hair salon, so clearly she was a hair-highlighting expert. I couldn't wait for my lustrous new locks.

After thirty minutes, I peeled off the foil, washed my hair, and blew it dry. I peered closely at the mirror. I squinted. I pulled out a flashlight and aimed it directly at my head. The cat thought I was playing a game with her and jumped up to attack the flashlight beam, slid into the sink, and got her paw caught in the drain. I had to use cat treats and a spoon to set her free. During the whole ordeal, not a single highlight glimmered on my head.

Conclusion: Hydrogen peroxide works about as well now as it did back in high school. There are no new ingredients.

Not one to give up easily, I moved on. Next up was
a homemade facial scrub
that would exfoliate the skin and give me a brighter, more youthful appearance. The best part about it: it was easy to make. Just take a skin cleanser (I used Cetaphil), mix it with sugar, and start scrubbing. I could do that! I immediately began imagining how much younger and healthier my skin would look.

The recipe called for equal parts face cleaner and sugar, but measuring would take at least 30 seconds, and quite frankly, I didn't feel like wasting that much time. I dumped some Cetaphil in my palm, added sugar, and mixed. It felt grainy. It smelled like frosting. You know: good.

I scrubbed it in my skin. I took special care to exfoliate my lips, too, because the article said not to forget this often-neglected area. Interesting . . . this facial scrub tasted pretty darn good. I decided it was time to rinse in hot water before my facial scrub turned into dessert.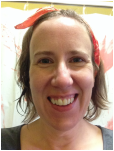 Do you know what happens to sugar when you add hot water? I found myself with a thick mask of syrup all over my face. I scrubbed with a washcloth, ate up as much as I could, and finally gave up and went with a scouring pad to get this crap off my face.

Conclusion: Yes, my face did feel exfoliated. I felt much more attractive, particularly to ants and flies. And I got to have a yummy afternoon snack, too. I'm not sure if my brighter, healthier skin was from the homemade facial scrub or the Brillo pad, though.

It was finally time to go in for the kill. I needed a makeup overhaul.
The article I found
listed 32 tips to make your eyes wider, lips fuller, and cheeks more contoured. I decided to try them all. Honestly, I thought the results would be hilarious. Surely I would wind up with an "after" picture for the ages. I giggled to myself as I started with the cheek contouring. This would be horrible! Which would be great!
The weird thing was, these makeup tips . . . worked. I blended darker colors in the hollows of my cheeks, and lighter concealer to hide the bags under my eyes. I extended my lipstick past my lip line for the impression of fuller, more kissable lips. I followed the secret-Hollywood-insider instructions to make my eyes look wider and brighter. I thought for sure I'd look like Courtney Love after a night on the town. But I didn't. I looked kinda . . . nice.

Arguably, I should have stopped here.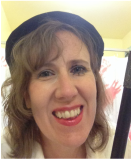 Since all was going so swimmingly, I decided to push a little further. You know who was pretty? Andie MacDowell, back in the day. She was gorgeous. I wanted that look.

Except that when I googled her picture, I found a much more intriguing look. One that I knew I could pull off. Sleek. Sophisticated. Scary. And I had all of the tools (and props) I needed right here at home. I decided to go for it.

And so, my droogs, I finished off my home makeover in style. Pretty? Maybe not. But I felt like a bolshy devotchka. And really, isn't that the point of it all?