Perhaps you noticed the new author photo I have on the home page of this website. Why did I change it? It was time, plus, my mother hated the old one because I wasn't smiling in it. Apparently, you never grow out of wanting to please your parents, so a new photo was needed.
Accomplishing this wasn't easy. The only professional photographer I know works weird hours as a 9-1-1 dispatcher, and I didn't want to show up at her job and have her be distracted with saving lives when I needed head shots. Jason is usually good for taking pictures, but he is not good at letting me look at all 60 pictures before deciding I hate them all and demanding retakes. So it was just me and my camera's delayed timer option.

My first issue was hair. Could I get away with just brushing it? How about if I put it up in a ponytail? Perhaps a cute hat was in order? I did some test shots of these options, and spent a good half hour trying to figure out why I kept making that weird forced smile. Perhaps it was more than my hair that needed work. I decided to worry about that later, and ran down the street for some hair mousse, fired up the curling iron, and went to work. (It turns out that I don't have the patience to use a curling iron properly, which I mention only to explain the three half-formed curls in the final photo.)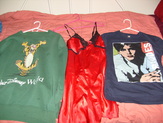 Picking just the right outfit was critical. A sloppy sweatshirt might say "I'm fun, but also a slob." Something sexy would send a different message, more like "I'm flirtatious, and a bit trampy." A t-shirt wouldn't do, either: "I'm casual, and in my free time, I like to stalk Nick Rhodes of Duran Duran." After going through everything in my closet twice, I finally settled on a little black dress, which only proves that women should never even bother to buy any other kind of dress.

I went outside and started experimenting with the delayed timer on the camera. It only gave me three seconds to click the button and pose, which is not nearly as easy as it sounds. Here I am in one of several failed attempts to get in frame and flash my most stunning smile before the shutter clicked. It's a great shot of both my butt and the tick farm I'm cultivating in my garden, but not quite what I needed.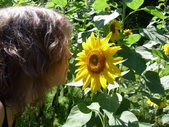 Once I got the hang of the delayed timer, I decided to try for something artsy. We have a bunch of sunflowers in our back yard, and they seemed like the perfect artistic touch for what I needed. Here I am, wistfully watching two Japanese beetles mate on a bright sunflower. It sounded good in theory, but of course, you can't see my face, nor can you really see the beetles, so what was the point? I chalked this shot up to a failure and moved on.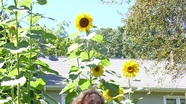 I wasn't quite ready to give up on the sunflower motif yet, though. I decided they'd be a great backdrop. This taught me an important lesson on perspective. Yes, sunflowers are pretty, but they are also much, much taller than I am. Here's my "Stacey Among the Sunflowers" shot. Pretty, and a lovely late-summer scene, but again, not quite what I'd hoped for.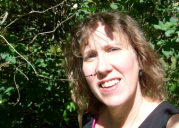 The flowers were clearly not working. I liked the idea of greenery, though, so I kept on looking. I found a nice bush in the yard that might provide a little color in the picture, and it could be just the right height.

I didn't realize until I uploaded the picture to my computer that there were still a few lessons I needed to learn about perspective. Look closely, friends. There's a tree branch in that shot that looks like it's trying to pick my nose. I headed back out to try again.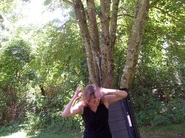 Clearly I needed a different backdrop . . . maybe one that wouldn't be so eager to shove its branches up my nostrils. I found a nice tree and thought that perhaps a portrait of me, in repose amid the leaves, would work just fine. I leaned up against the tree, which jostled its branches a bit, alarming the hive of white-faced hornets that had taken up residence there. In case you are unaware, this particular species of stinging insect is quite territorial, and has no qualms about flying into your hair or, yes, up your nose.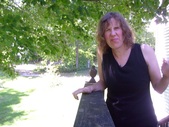 At this point, I'd decided that a photo among the flowers or delicate branches around me was not in the cards. I waited several hours for the hornets to settle down, then finally discovered the perfect place for my photo: the side deck. The camera could sit at a good angle, the sun wouldn't shine into the lens, and the hornets were on the other side of the house. What could go wrong? I set up the camera, selected the delayed timer option, and got ready to pose, smoothing my hair and flashing my most brilliant smile. Here was the result: me, squinting, looking as if I'd just gotten a whiff of a particularly stale fart.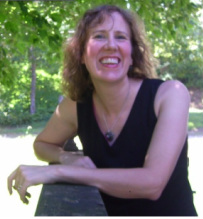 I was determined at this point to get my stupid author shot, come hell or high water. I clicked my way through weird smiles, crossed eyes, the return of the white-faced hornets, and a particularly amorous dog that had escaped from the neighbor's yard to make friends with my left calf. It was not easy. It was not fun. I did not feel glamorous, attractive, or particularly fond of Mother Nature by the time I was done.
One hundred and forty-seven photos later, I finally had a usable shot. Eagle-eyed critics will note that the image is slightly out of focus, to which I say "Move your face closer so I can slap you." I wasted twelve hours of my life trying to get a usable picture, not to mention having my nose violated unpleasantly more than once. This is the picture that you will have to live with on my site for the next year. I figure it'll take me at least twelve months to recover from this experience.