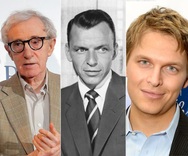 Often when I'm hard at work, my mind will wander. "What shall I have for lunch?" I'll sometimes think. Or, "Didn't Mia Farrow say not that long ago that her son might be Frank Sinatra's kid? Why haven't I heard more about that?" I decided to investigate. (Also, I decided on Taco Bell.)

I found this picture online, comparing Ronan Farrow to both Frank Sinatra and Woody Allen, the man who raised him. I don't know. He does have Sinatra's face, but Woody's shirt collar. I think it could go either way here. Ronan himself was pretty funny about the whole situation, tweeting "Listen, we're all *possibly* Frank Sinatra's son." This got me thinking: Could I be Frank Sinatra's kid?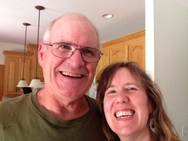 Let's look at the evidence: First off, my mother not only has never met Frank Sinatra, she actively hates his guts. Honestly, Sinatra is her kryptonite. If you want to see my mother shoot actual green balls of smoking venom out of her eye sockets, just mention what a nice guy you thought Ol' Blue Eyes was. She despises him. Plus, and maybe this should have been my first point, she loves my dad and would never risk her marriage for a fling. Finally, let's turn to the photographic evidence.

This is me and my father. I have his hair color (before his went white, but don't tell him that—he thinks he's still a blonde), his eye color, his ridiculously overly-sensitive skin, his high cholesterol, his love for sour cream . . . yup, there was no denying it: Dad was most definitely my biological father.
But I do have one parent that I don't resemble AT ALL. That's right: my mother, with her Greek features and olive skin, looks nothing like me. Was it possible that Mom wasn't really my biological mother?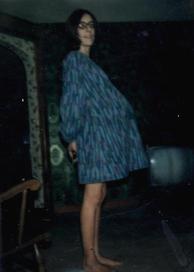 I thought about this for a while over crunchy tacos. Mom loves math and science, whereas I am a creative writing and arts-and-crafts kind of gal. Mom would never turn down the opportunity to visit the city—any city—whereas the thought of riding a subway makes me break out in hives (thanks again for that sensitive skin, Dad). Okay, maybe that could be explained away by the fact that she grew up in Hartford whereas I grew up on a farm in the middle of nowhere. But then I looked down at my fast-food tray and realized that Mom never would've ordered crunchy tacos. She is a soft taco woman all the way. And that, my friends, is biology. I called Mom immediately.

"Mom? If that's your real name," I muttered. "Do you actually have any proof that I'm your daughter? Or is it possible that you did, in fact, adopt me, and I'm really the long-lost Princess Anastasia?"

"What?" Mom said. "Have you completely lost your mind?"

I tried to question her further, but she was losing her temper, and fast. I never lose my temper that quickly. She was just making my case for me.

Mom is also the no-nonsense sort (whereas I am the high-nonsense sort, you see) and she immediately produced what she considered photographic evidence: a picture of her, quite pregnant, in the month and year of my birth.

Wow, I thought. I'd had no idea Photoshop was even around in the 1970s, but Mom had done a great job of making it look like she'd been nine months pregnant right before I was born.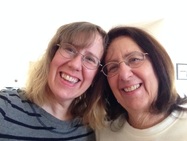 "That's all well and good, but how do you explain your aversion to crunchy tacos? Dad doesn't like them either, so clearly, the only explanation is that I am a Russian princess," I insisted.

"How about because I don't like it when the taco shell breaks and dumps its contents in my lap?" she asked. She said a few other things, but I didn't catch much beyond "nuttier than a pecan log."

Mom can deny it all she wants. I know the truth. See? Just look at us:

Except for the fact that I have her forehead, nose, face, smile, and neck, we look nothing alike. Plus, you can't see it here, but I also have her body shape, hips, hands, and feet. And I guess it's a little odd that we went out to buy new frames for our glasses at separate times, and picked out the exact same frames. (I am not making that up. We have also gone on separate shoe-shopping excursions and bought the exact same sandals. Twice.)

The good news is, it turns out my parents really are my biological parents. I am not a long-lost Russian princess, which is also good news, because that would've made me 113 years old. The bad news? I'm pretty sure Mom is thinking about disowning me now.

Many thanks to my mother, who let me use that nine-months-pregnant picture of her without even questioning what I'd be writing about this week or using the picture for. THAT's a mother's love, folks.