Want to know how to be funny? I'll admit, I'm not always in the mood to make with the 'ha-ha' myself. Like, hypothetically, when I'm upset and all I can do is imagine the person who offended me being eaten by a shark. Those are the days when I find that flow charts help (also, reading Erma Bombeck and/or old Bloom County comic strips).
However, I have found that it's pretty easy to take an everyday situation and make it hilarious (or, at least, mildly amusing). It involves just having a knack for knowing what's funny and what's not. Let's take an ordinary day, say, a trip to the beach, and see what's comical about it, and what's not: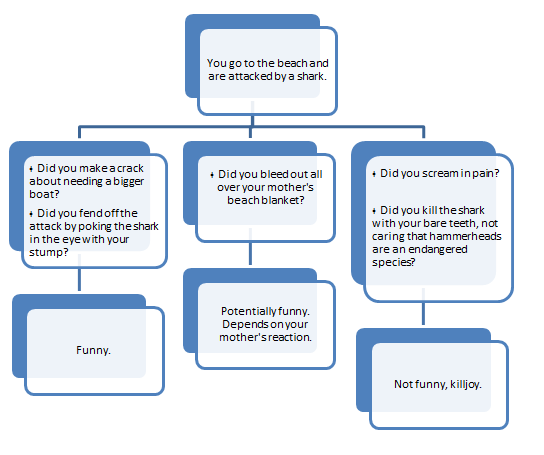 What, this doesn't work for you? Perhaps you are asking yourself when am I going to know when it's exactly the appropriate time to quote a line from Jaws? You're right: timing IS important. Let's try a situation that's perhaps a little less stressful.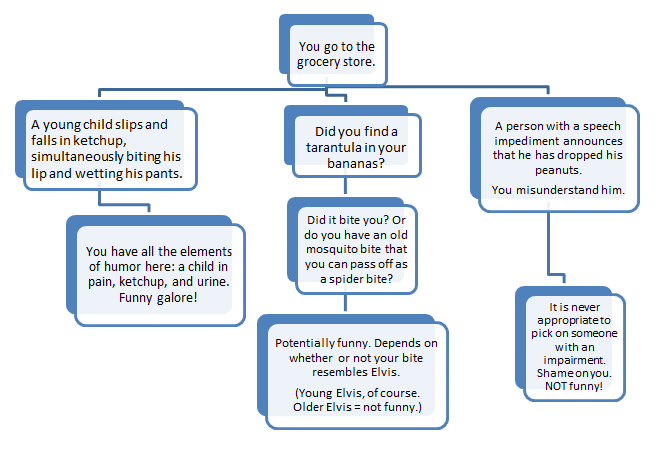 See? Not so hard, right? Now that you know all of my secrets to writing comedy and think you can do it just as well as I can, perhaps you'd like to come with me to the beach some time. It'll be funny—oops, I mean fun.