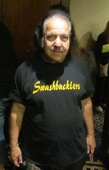 Author's Note: This is a clean blog post. My mother, my aunt, and sometimes my nephew read this. Let's be adults about this, shall we? After all, Ron Jeremy is an ADULT film star.

There was a time, I hear, when Ron Jeremy was best known for his work in the adult film industry. I find this hard to believe, since I can't imagine a more unattractive man. I mean, look at this guy! But apparently, I'm in the minority: Adult Video News named him the top porn star of all time. Really? This pudgy, balding perv?

I'm happy to report that I've never seen the unit that originally shot Ron Jeremy to stardom. (I'm totally serious. What kind of girl do you think I am?) Aside from a few jokes in junior high that I didn't really get, I'd never heard of Ron Jeremy until I watched the second season of The Surreal Life, on which he appeared. (Again, I'm totally serious. I watch some pretty crappy television shows.) As I watched this middle-aged, overweight doofus make unlikely friends with Tammy Faye Bakker, I thought: This little hedgehog is funny.

My next exposure to Mr. Jeremy was in the film One-eyed Monster, a funny horror flick in which an alien being possesses Ron's most famous body part. It was hilarious, full of stupid jokes, and surprisingly, showed little of the main villainous member. Dare I say it? It was well done. I started noticing Ron Jeremy more. He popped up in movies like Poultrygeist and TV shows like Family Guy. He made me laugh. One day, I realized a depressing and unnerving fact: I liked him.

Here's what I love about Ron Jeremy: he has a delightful sense of humor about himself. He knows the years have not been kind to his physical appearance, and he's okay with that. He has no problem parodying himself, taking a paycheck in return for a ridiculous performance, or allowing himself to be the butt of the joke. These things made me realize an uncomfortable truth: somewhere along the line, Ron Jeremy has somehow transformed himself from a cheesy adult film actor to a modern day, perhaps even admired, cultural icon.

Want proof? Look what's been trending on Google this week:
Yes, this hairy slob actually had the guts and jocularity to parody Miley Cyrus's "Wrecking Ball" wearing nothing but a large pair of tighty-whities. And he's getting hits. HUGE hits. This video has already been viewed over three million times on YouTube.

What's going on here? Isn't this one of the Signs of the Apocalypse? I think . . . I think Ron Jeremy has successfully made the transition from sleazy adult film star to—dare I say it?—relevant mainstream icon. (Okay, maybe relevant is pushing it.) But this guy is popular. And not just for his winkie, anymore.

I'm not sure what this says about our society as a whole, or the seemingly lowered standards of entertainment in American culture. Probably bad things. Probably this is an indication of dark, dark times ahead.

But here's what I know: Ron Jeremy makes me laugh. That may have been his worst nightmare when he first started his career, but I like to give kudos where kudos are due. Child actors struggling to make it in a changing world might want to take lessons from this guy. If Ron Jeremy can transition from naked sleaze to hip, aging clown, well, then anything really can happen. America: Nation of Dreams.