We don't have a lot of money this Christmas. By "not a lot of money," I mean I'm actually rinsing out our used paper towels and hanging them over the shower curtain to dry so we can re-use them. This holiday season, I decided I'd be making most of our gifts for friends and family. How hard could it be, right?
I found a book on homemade Christmas gifts, which Better Homes and Gardens put out in 1972, making it officially older than me. I decided to pass on the "groovy headbands" that were sure to please any gal, but looked for other, more helpful tips.
BH & G mentioned that "baked treats make for a super nifty gift for all ages." My sister-in-law had once mentioned my snickerdoodles. I can't remember quite what she said about them, but I decided it was probably positive as I don't recall her throwing them at me, so I worked on baking her a plate of them for the holidays.
I bake these cookies from scratch, and there's some trial and error involved. I have to taste the dough, add more sugar, taste the dough, add more cinnamon, taste the dough, have a sip of coffee to offset my palate, taste the dough . . . you understand. After baking, I let the snickerdoodles cool and looked for a festive plate. All I had was a paper plate that looked like a football. That would have to do.
Some of the cookies were burned on the bottom, so I ate them. Then I arranged what was left into a pretty holiday cookie display. Won't my sister-in-law be surprised to get this lovely platter of cookie this Christmas?

Next up, my handy BH & G book mentioned sewing. I can sew. I've mended socks and even sewed a button onto a sweater once, officially making me a professional seamstress. I decided that the heart-shaped pillows the book mentioned would be perfect for our friends' two daughters, who are both under the age of 5.
The book had a pattern to follow, but I decided I didn't need it. It's a heart, for goodness sake. How hard could it be to cut out a heart shape?
As it turns out, pretty hard. I'm not sure how Amy and Jim are going to feel when their kids receive pillows which kind of look less like a heart and more like a pool of blood. And, given the number of times I stabbed my fingers while sewing them, that's kind of fitting. It's the thought that counts, right?
My stupid book suggested that potting a houseplant in a creative and groovy new planter would make for a good gift. That sounded perfect for my mother. The only houseplant I've been able to keep alive is an aloe, only because those suckers are hard to kill. Perfect for Mom, from whom I inherited my black thumb. It took me a while to locate the aloe, because I'd apparently stored it in the attic last spring by accident, but I eventually found it and put it in a cool new planter for Mom.
She's my mother. She'll understand.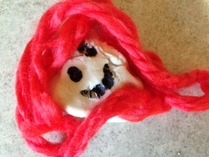 Finally, BH & G had something to useful to offer: namely, a recipe for baker's clay, which could be used to make your own ornaments. I'd been going nuts trying to figure out what to give my nephews, ages 13 and 10 (almost 11). Salvation! My problems were solved!
I didn't want to get too creative with my first batch, so I just cut out some round ornaments, figuring I could make them into eyeballs or skulls or something else equally as cheery. They came out okay, but I started to feel bad. They weren't really holiday season type ornaments, unless that holiday was Halloween. I made a second batch, taking care to design a festive Santa, with round cheeks and laughing eyes, and I even fashioned a red hat out of bright red yarn.
Won't Nathan and Evan be surprised to see this little number on Christmas Day?

There you have it. The holidays need not break the bank if you just put a little time and care into creating your own homemade gifts. It also helps if you have a really, really understanding extended family.