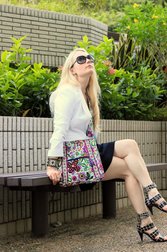 When people meet me, they often think "Wow! What a fashionista!" (They don't say they're thinking this, but I can tell.) One of my favorite things to do is to find a picture of a model and recreate her look. Take this lady, for instance:
<----
Nice, right? She looks lovely. However, her whole outfit probably costs $4,000. I don't have that kind of money. What I do have is the innate ability to find a bargain. So off I went.
First off, her blazer is white, which is a terrible color on me. I decided to go with gray, which is a little more flattering. Also, I don't like wearing tops that button, so I went with a sweater (Price: free, raided my great-aunt's closet.)
Her skirt just isn't practical for New England in March. It might be spring, but it was snowing yesterday, and that skirt would just look silly over a pair of long johns. I swapped it out for a nice, sensible pair of corduroys (Price: $5.00, JC Penney clearance rack.)
Now for the accessories. Her Jackie Kennedy glasses seemed a tad pricy, so I went with cheap imitations that were equally as big and gaudy. (Price: free when you buy the first season of CHiPS on DVD.) Her heels looked a little cumbersome, plus, due to an old knee injury, I no longer wear heels as a rule. I like the pattern, though. It makes a personal statement. So I found some sneakers with my own personal statement - the logo of my favorite baseball team, the New York Yankees. (Don't you boo me, Red Sox Nation. I like a team that WINS.) I added my own personal touch - some orthopedic arch support inserts - and I was ready to go! As soon as I found a purse, of course. (Price: $10 for the sneakers at the Reebok outlet; $14 for supports for my falling arches at Walmart.)
I LOVE the Vera Bradley bag the model has, but again, I'm sure I could make a personal statement for less. I found a great Halston-print bag at Job Lot for much less. Oops! Did I say Halston? I meant Holstein. Only $10! My look was complete.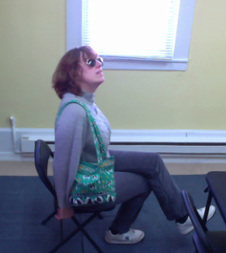 Here's the result of my careful replication of the model's outfit:
<---
It's like we're twins, right? Right?
If you'd like me to come redo YOUR wardrobe for less, I'm available for consultation at the low, low price of $100/hr. Arch support inserts get expensive, you know.