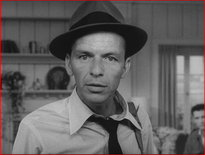 Piggy ingrate.
Only a few more days 'til the New Year, and it's time for this particular blogger to make her list of resolutions. Won't you join me?
First off, I've been picking on Bing Crosby an awful lot lately. I sort of feel bad about that. After all, what did he ever do to me except sing 40 bajillion holiday songs that I've been listening to ad nauseum since early October? (And listen,
Lite 100.5 WRCH
, there is NO CALL to continue playing that Christmas crap AFTER Dec. 25th. But I digress.)
In 2013,
I resolve to find a new crooner upon whom I can heap my abuse.
I'm looking at you, Frank!
Next up, I'm a little concerned about my weight. I'm getting tired of looking at these love handles. Next year,
I resolve to buy more long sweaters so I won't have to see 'em.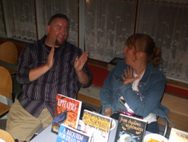 We're talking about FISHING.
A year ago, I did a
blog
about how I'd spent all of 2011 talking to Ken Wood. In 2012, the chats continued, but I only found about sixteen pictures of us yakking it up this year. (This one is from NeCon in July, taken by Jason Harris.) I feel like we're not talking as much, maybe because Ken's been too busy planning his wedding to Sarah Gomes (they're getting married Saturday, 12/29! Congratulations, you guys!) In 2013,
I clearly have to talk to Ken Wood more.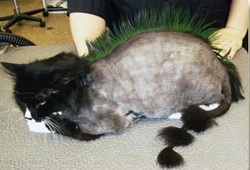 Call me Fang.
Finally, I've noticed that the house is looking a little blah lately. Wallpapering and renovating would be both expensive and a lot of work. To spice things up around the home, in 2013, I resolve to shave a mohawk into Pugsley the Cat and henceforth refer to him as 'Fang.'

Sure, these resolutions will require self-discipline, hard work, and a lot of willpower on my part. But I'm willing to sacrifice. What are YOU planning to do in 2013?