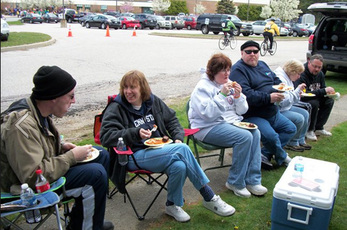 I like to participate in the MS Walk every year. As you can see from this picture, the MS Walk isn't just about fundraising to find a cure for MS. It's also a major arena to showcase your athletic talents. That's my friend Carol sitting to my left in that picture. Think of her as the Burgess Meredith to my Rocky. This picture was taken at the Rhode Island Walk MS in 2010, and you can see that we were at the peak of our physical prowess.
Besides being a major athletic competition, the MS Walk has benefited me in many, many other ways. I don't do it every year just because my friend Renee can no longer feel her hands and therefore has to wear elastic-waist pants. I do it so that when I go to the doctor for my annual physical and she asks me if I exercise regularly, I can honestly answer yes. Because thanks to the MS Walk, I now walk regularly, once a year, like clockwork.
It also doesn't hurt that I can list the MS Walk on my resume. Of course, I prefer to list it as "volunteer work with the handicapped" which would make me feel bad except that I know Renee does the same thing. Every year when she asks me to participate, she puts it on her resume as "working with the mentally challenged to get them involved in everyday activities." So it goes both ways.
I don't like to brag, but I can get pretty hard-core with my fundraising. See, the only way to get a free t-shirt proving that you were actually at the MS Walk is to raise at least $100.00. I like to start early, hitting up my family at Christmastime, when they can afford it the least. Then, when I see the girl scouts selling cookies outside the grocery store, I like to hop in to one of the store's electric scooters and putter up to them, pretending that I have MS (or some other severe handicap that causes me to drool and foam at the mouth. Like they know the difference. They're ten!) Usually their moms are pretty generous about paying me to go away. Finally, to make up the difference, I contact my friends and blackmail them with pictures of drunken, absinthe-fueled evenings at various horror conventions (I cannot tell you how important it is to stay sober at these events. The blackmail photos alone are worth tens of dollars.) That usually gets me to my fundraising goal, proving that I have no scruples when it comes to earning a free five dollar t-shirt.
I think everyone should get involved in volunteer work. Honestly, it will make you feel better about yourself. I know I do!